Participate
Fee
Why fee for an online conference?
We have received several messages about the fees we charge for the ICRC 2021. Perhaps some are misled to believe, that organising an online meeting has no cost.
But the situation is very much different for a large conference such as the ICRC: 2 weeks with about 1000 participants, with a wealth of papers, presentations, discussions, with plenary and parallel sessions, and with the aim to archive all the materials (proceedings papers, discussions, presentation slides and recordings) from the start of the conference for a long time.
We are very happy to announce that we have received about 1400 abstracts from about 54 countries and from all parts of astroparticle physics. With this, the capacity for abstracts to the ICRC has been reached.
Thank you very much for the great response.

Conference Fee
Attend only
80 € per participant
Present a contribution
50 € per contribution
may come down, depending on participation
Young Scientists
waived
Undergraduate Students
free
Attend only (payment after 1 July 2021)
200 € per participant
Attendance
Attend
Register here for access to all parts of the conference (all days, live streams, recorded presentations, discussion sessions, proceedings articles, ...) without presenting anything yourself. Registration opens on 15 January and closes on 1 July 2021.
The fee for access to all parts of the conference is 80 € per person.
The late registration fee (after 1 July 2021) for access to all parts of the conference is 200 €.

Contributions
Abstract Submission is already closed. The contributions can be viewed here.
Exhibition
Industry Exhibition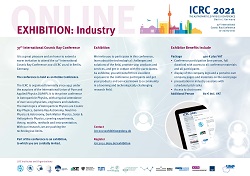 We invite you to participate in this conference, learn about the technological challenges and solutions of the field, promote your products and services, and get in contact with the participants. As exhibitor, you will benefit from excellent exposure to the conference participants and get your products and services known to a community in a booming and technologically challenging research field.
For more information, please check the attached flyer or contact icrc2021exhibition@desy.de.
To register, please fill the form: http://icrc2021.desy.de/exhibition.
Science Fair
We invite collaborations and individuals to present their experiment or observatory and to showcase anything relevant, interesting or peculiar about Astroparticle Physics, that does not fit easily into a science talk or poster. Be it artistic photos, stunning film clips, new project descriptions, outreach projects, anything of potential interest to ICRC participants is welcome. Share your enthusiasm about Astroparticle Physics and find colleagues with similar interests.